ADA compliant computer desks & lecterns.
Trusted solutions for education, government, business and medical facilities for over 30 years.
Nova Solutions wheelchair accessible Sit-Stand motorized height adjustable lectern and computer desk with a motorized monitor lift are the ideal solutions to meet required ADA regulations.
All NOVA products are available in ADA Compliant configurations.
Call Us Today - (800) 730-6682
Sit-Stand Lectern
The premier adjustable height ADA Compliant Lectern!
NOVA's Sit-Stand wheelchair accessible lecterns are the ideal ADA Compliant solutions for classrooms, auditoriums, lecture halls, convention centers, and more. Available w/ flip-up shelves, rack shelves / drawers, and ventilation fans.
Features the iMod™ wire management system, which organizes and conceals your computer wires within a compartment located on the backside of the unit. A removable modesty panel available in laminate or perforated metal that provides easy access and protection of your electrical, computer, or AV equipment. Learn More
Computer Desks
ADA Compliant / Wheelchair Accessible Computer Desks that hide the computer.
NOVA's Wheelchair accessible Computer Desks with Trolley™Motorized Monitor Lift Visual Display Option offers a flexible, secure & space-saving monitor solution ideal for today's digital learning environments. Choose from a wide variety of sizes and styles to fit any application or room layout.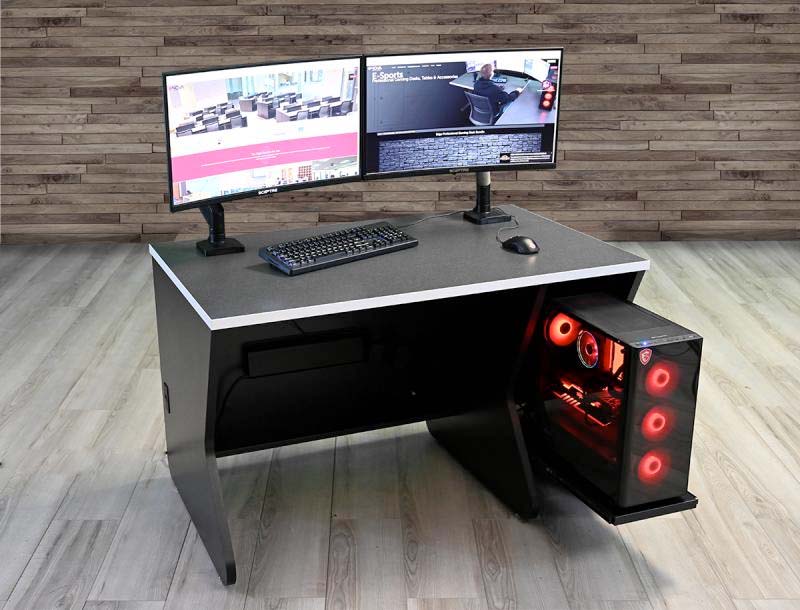 Esports Educational Training Desks
ADA Compliant / Wheelchair Accessible Esports Gaming Desks with design and comfort for all types of gamers.
At 30" in depth our esports educational gaming desk allows for perfect monitor placement and allows ample room for your keyboard and mouse. Add NOVA's metal PC holder beneath the work surface to elevate and protect your gaming PC and clears off the work surface for a dual or triple monitor set-up. Standard wire management channel allows for your gaming set-up to be clean and clutter-free while maximizing your efficiency in tournament play.
Built to US ADA Clearance Standards
Knee Clearance
General:
Knee clearance is considered the space between 9" and 27" above finished floor.
Max Depth:
25" D Maximum at 9" above finished floor
Min Depth:
11" Minimum at 9" above finished floor and 8" minimum at 27" above finished floor.
Clearance Reduction:
Between 9" and 27" above ground floor, knee clearance depth may be reduced at a rate of 1" Deep per 6" High.
Width:
30" W Minimum
Toe Clearance
General: Toe clearance is considered the space between finished floor and 9" above finished floor.
Max Depth: 25" D Maximum
Min Depth: 17" Minimum
Additional Clearance: No more than 6" beyond knee clearance at finshed floor or 9" above finished floor will be considered toe clearance.
Width: 30" W Minimum